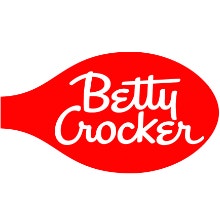 Betty Crocker: cake mixes and frosting
Betty Crocker cake mixes and Betty Crocker frosting make your life 100x easier (we know you have better things to do than spending all day in the kitchen!). Carrot cake, Reese's cookies, lemon or strawberry cake, brownies... It's all incredibly yummy and super easy to make thanks to Betty Crocker! Betty Crocker also makes frosting and icing in convenient spray format, complete with decorative piping tips!

Explore the full selection of products by Betty Crocker in our American grocery store!

Yummy Betty Crocker cakes
Betty Crocker is one brand that every American has at least heard of! If you've traveled to or lived in the US, you know that a lady by the name of Betty Crocker positively dominates the baking aisle of every American grocery store. Betty Crocker makes everything you could possibly need to make delicious cakes and other desserts in record time. With Betty Crocker, unlike baking from scratch, you won't have to spend hours measuring, mixing, and doing dishes whenever you're in the mood for a tasty treat! Dessert is ready whenever you are! Nearly everything you need comes right in the box, so you just have to add 2 or 3 ingredients, stir, and pop it in the oven. As good—if not better than—homemade, and so much simpler! Betty Crocker cakes are fluffy, moist, and totally yummy. There's a cake mix for every sweet tooth: lemon, chocolate, strawberry, carrot cake, Funfetti, and more! Betty Crocker even makes mixes for brownies, muffins, cookies, gingerbread, and pie crust. And since no good American cake is complete without decorations, you can bet that Betty Crocker does ready-made icing, too! And you're just as spoiled for choice in that department. There's cherry, milk chocolate, dark chocolate, cream cheese, lemon, vanilla, buttercream, fluffy white, and even strawberry frosting. There are too many to name!
Who is Betty Crocker?
Who exactly is Betty Crocker? Was she a real person? A chef? We've got the scoop on the name that Americans know by heart! Betty Crocker was invented in 1921 by the Washburn Crosby Company, one of the companies that would later merge to become General Mills, an American food giant. The Betty Crocker brand remains a part of General Mills. Back in the day, Washburn Crosby Company sold Gold Medal flour. Americans used to write letters to the company asking for baking tips and recipes that used their flour, and the company wrote back, signing off with the name Betty Crocker. By the way, Gold Medal Flour still exists, and is some of the best-selling flour in the US to this day. It just so happens that one of the beloved former directors of Washburn Crosby was named William Crocker. That's how dear Betty got her last name! It was chosen as a tribute to the former director. The fictitious first name, Betty, was picked because they thought it sounded like someone friendly. By now, you've probably guessed that there was no "Betty Crocker" answering the letters! The name, and the person it represents, were simply made up by Washburn Crosby (sorry!). As the brand grew in popularity, so did "Betty Crocker." The fictional character soon began hosting her own radio shows in the United States. Anyone who listened to shows like "The Betty Crocker Cooking School of the Air" would have told you that Betty Crocker was larger than life—definitely real! Crocker finally had a voice, but the company wanted to take it a step further and put a face to the name. So, in 1936, a New York artist drew the first portrait of Betty Crocker. The portrait has been recreated several times since then. Through the years, Betty Crocker has kept up with the times, and with the image of the modern woman that is constantly evolving. So no, a woman named Betty Crocker didn't write over 200 cookbooks, the first of which was published in 1950. And no, it wasn't a lady named Betty Crocker who offered up the recipes and cooking tips that appeared in magazines in the early 1980s. There isn't just one person responsible for Betty Crocker's success, but an entire company! If she were a real person, we'd love to know her secret for living such a long and successful life Now you know, Betty Crocker is a brand, not a person. And not just any brand: one of the largest and most beloved American food brands! Even if lovely Ms. Betty wasn't a real person, she has still gone down in history in the United States and people will be singing her praises for years to come! <3