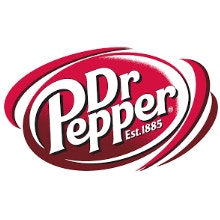 Dr Pepper: the American soft drink king
Dr Pepper is the oldest major American soda brand. Enjoy the iconic taste of Doctor Pepper straight from the can or go retro with a glass bottle! We've got original Dr Pepper, Dr Pepper Cherry, Dr Pepper Vanilla Cream, Diet Dr Pepper, and more!

Check out our entire selection of American drinks and order your favorites from our online American shop.

"

Dr Pepper: the oldest major American soda brand
Dr Pepper might not be quite as well-known as Coca Cola... But it is the oldest major brand of American soda. And it earned its title of "Doctor "—it was first concocted by a pharmacist named Charles Alderton and sold in a drugstore in Waco, Texas! When it hit the market in 1885, a year before Coca-Cola was invented, it was an instant success.

So now you know where the "Dr " comes from, but what about the "Pepper "? Good question! No one really knows. Some people think that Dr. Pepper was the owner of the pharmacy Alderton worked at. Others say he was one of the pharmacy owner's friends. According to the soda creator himself, his beverage was named after the father of a girl the pharmacy owner was in love with... We may never know where the name truly came from, but it's no doubt one of the most famous doctors in the US!

But we digress... At first, Dr Pepper was only sold at Morrison's (the pharmacy we told you about). But when young beverage chemist Robert Lazenby discovered the soda, he saw its true potential to become something special. Since Alderton was more interested in pharmaceuticals than soft drinks, he asked Morrison and Lazenby to take over developing and bottling the American beverage.

And soon Dr Pepper became one of the most beloved American refreshments of all time! It really hit it big when it was presented to nearly 20 million people at the 1904 World's Fair in St. Louis! In fact, lots of famous brands have World's Fair expositions to thank for their success.

Faced with newfound fame, Morisson and Lazenby founded Artesian Mfg. & Bottling Company, which would later become the Dr Pepper Company. In 1922, the company decided to leave Waco and move operations to Dallas, and the factory opened for business the following year.

Today, Dr Pepper is part of Keurig Dr Pepper Inc. (formerly Dr Pepper Snapple Group, Inc.), whose headquarters are in Burlington, Massachusetts. The conglomerate has successfully launched over 50 drink brands on the North American market alone.
A Dr Pepper takeover
We wouldn't be able to call ourselves My American Market if we didn't sell classic Dr Pepper! But you can also get other variations, like delicious Dr Pepper Vanilla and Dr Pepper Cherry Vanilla, from our site. And you can't go wrong with a flavor as popular as Dr Pepper Cherry.

Dr Pepper doesn't want anyone to miss out on the fun, so they created a line of zero-calorie soft drinks. Like Dr Pepper Light, which has all the flavor of the original soda without any of the sugar or calories. Many people say it's the best "lite " soda out there, because it tastes almost identical to classic Dr Pepper.

Even if you've never gotten the chance to try Dr Pepper (yet), you've probably seen this famous cold drink make a cameo or two on the big screen! We spotted it in The Big Bang Theory, Breaking Bad, Iron Man, X-Men, Jurassic Park, Forrest Gump, and lots of other well-known TV shows and movies. Where have you seen it?