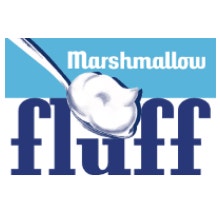 Durkee Fluff: heavenly marshmallow fluff spread
Fluff is a legendary gooey marshmallow spread, and Durkee Fluff definitely makes the most popular marshmallow fluff in the States! Which flavor of Fluff will you try first? Original vanilla, raspberry, or strawberry? Pair your marshmallow Fluff with peanut butter for a unique fluffernutter" sandwich, or use it to frost cakes and cupcakes!

Check out all the different kinds of Fluff available in our online store full of American products!

"

Durkee Marshmallow Fluff: a brand with history dating back to 1917
The very first recipe for Marshmallow Fluff was developed all the way back in 1917 by Archibald Query in Somerville, Massachusetts. Archibald was a great cook but wasn't interested in becoming a businessman. Though he had a DELICIOUS product on his hands, he didn't have much luck selling it, so in 1920 he ceded the recipe to H. Allen Durkee and Fred L. Mower for $500.
Thus, the two began selling jars of their Fluff, which at the time was called "Toot Sweet Marshmallow Fluff." They went door to door, peddling their marshmallow spread to housewives in nearby neighborhoods, and soon the product was picked up by local grocery stores.
Business boomed, and the first ad for Marshmallow Fluff appeared in a prominent Boston newspaper in 1927. The Durkee-Mower company grew so much that it had to move to a new factory in 1929, where it was able to triple production. The same year, the brand also bought the Cream of Chocolate Company and began making instant hot cocoa—the perfect companion for their Fluff!
In 1947, the brand decided to redesign its packaging for practical reasons. The creators wanted people to be able to reuse empty Fluff jars, meaning they had to fit easily into the fridge. So, the size of the jar was modified and its opening was widened, to accommodate a spoon more easily. The jar's shape and size have remained the same ever since; only the label and the brand's logo have changed.
The company even published a cookbook in 1949, featuring recipes that all revolve around one star ingredient: Fluff! Several new editions have since been printed. Fluff continued to gain popularity and once again grew out of its old factory. In 1950, a new site opened, which allowed the business to up production from 80 jars per minute to 125! Impressive, right?
Then, in 1953, Durkee-Mower started experimenting with new flavors, like Raspberry Fluff. Several decades later, in 1993, it launched another fruity flavor: Strawberry Marshmallow Fluff. Sadly, Raspberry Fluff is no longer sold, but we're holding out hope that it'll make a return someday! On the bright side, totally yummy but rare new Caramel Fluff was released in 2016!
Which Fluff will you choose?
It's safe to say that every American has tried Durkee Marshmallow Fluff at least once in their life. You could say that Marshmallow Fluff is to the USA what Nutella is to Europe. It has a light, fluffy texture and tastes just like the gooey inside of a freshly toasted campfire 'mallow. It's the perfect unique topping for cakes and cupcakes—so much easier than whipping up homemade buttercream frosting! And for the complete American experience, enjoy a delectable fluffernutter sandwich—peanut butter and Durkee Marshmallow Fluff on white bread.
Original Fluff is the most well-known variety, but it also comes in a few other flavors that marshmallow creme connoisseurs love, like Strawberry Fluff. It's sweet and fruity yet light as a feather, and it makes an excellent base for strawberry fudge.
And how could you possibly resist the luscious caramel variety of this famous American marshmallow spread? It'll have you floating on a sweet, gooey cloud of marshmallow bliss! It's pure deliciousness!