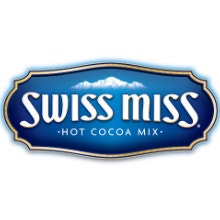 Swiss Miss: extra decadent hot chocolate mixes!
The most beloved name in hot cocoa in the whole USA is Swiss Miss! Heating up a mug of water or milk is the easy part... the hard part is choosing which delectable flavor you're in the mood for! So, what'll it be, milk chocolate, peppermint, or perhaps salted caramel? And did you know that some Swiss Miss hot chocolate mixes come with extra marshmallows?

Order a box of Swiss Miss from our online American food shop!

"