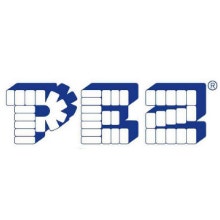 PEZ: dispense some delight!
Who doesn't love a PEZ dispenser? Some people get so excited by the face that they forget there's yummy candy inside! We picked out some of the coolest PEZ dispensers for you to collect, featuring your favorite characters!

Pick out the newest PEZ dispenser for your collection from our online American food shop!
Learn more
The PEZ life
The first ever PEZ candy was created in 1927 by Austrian inventor Eduard Haas. His idea was to create a special dispenser that resembled a lighter, to make the candy seem more glamorous and high-end than other sweets on the market. Now you know that the word PEZ doesn't come from the creator's initials. It's actually an abbreviation of the flavor of the original candy: peppermint. That's "PfeffErminZ" in German! Twenty-five years later, in 1952, the brand debuted an iconic new design: the first candy dispenser with a character's head as the opening. And since then, PEZ dispensers have charmed candy lovers all over the world! PEZ may have started out making peppermint candy, but today it is best known for its fruit flavors, like orange PEZ, strawberry PEZ, and cherry PEZ. But for most PEZ fans, the flavor of the candy is an afterthought. What really makes this novelty popular is the wide variety of characters that appear on the dispensers. Collecting them is a hobby for some people, and a passion (or obsession) for others! 😉 Besides different characters, there are also different sizes. The standard dispenser is about 8 inches tall, but there is also a giant 13-inch size offered for select designs (not to mention the enormous 94-inch model at a museum in California!).
Start your own PEZ dispenser collection
With the thousands of different colors and characters that are available, the PEZ dispenser is no longer a simple knickknack—it has earned international notoriety as a collector's item. PEZ collectors in Austria and far beyond enjoy talking about their passion in online forums and at annual PEZ conventions, and trading and selling rare dispensers. The hobby has gotten so big that there is even an entire museum in Connecticut dedicated to PEZ candy and dispensers. That's also where you'll find the largest PEZ store in the world (4000 square feet!), where you can purchase new releases, PEZ exclusives, and PEZ collector's items that you won't find anywhere else. It's worth a trip just to see the hundreds of thousands of items: there are animal PEZ dispensers, car PEZ dispensers, Star Wars PEZ dispensers, SpongeBob PEZ dispensers, Disney PEZ dispensers, and many, many more! PEZ has gotten the rights to use more licensed characters than any other brand! From what we've heard, some of the rarest editions feature US presidents. That gives us some ideas for the next PEZ we could offer here at My American Market!
Hide 🙈