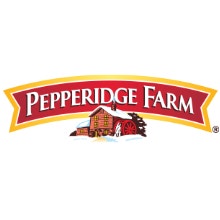 Browse our selection of American Goldfish crackers and holiday stuffing from Pepperidge Farm!
Pepperidge Farm, a snack lover's haven!
Pepperidge Farm owes its success to a woman named Margaret Rudkin, the brand's founder! It all started with Rudkin's desire to bake a bread that her son, who had many food allergies and diet restrictions, could safely eat! But her clever enterprising spirit took that idea and turned it into the very first Pepperidge Farm bakery. Though Rudkin first founded her company in 1937, she was limited by food rationing and shortages during the war. It wasn't until July 1947 that the brand really got off the ground, when Margaret was finally able to open her first commercial bakery. Over the years, Pepperidge Farm expanded, developing lines of crackers, bread, cookies, pastries, and other snacks and baked goods. In the '60s, Campbell Soup Company bought Pepperidge Farm, and not long after, a special little cracker (coincidentally, the perfect topping for soup) was created: Goldfish®! Margaret started appearing in Pepperidge Farm ads in the 1950s, but you may have seen her on the brand's social media much more recently! She will forever be the face of the brand. And rightly so—it was her hard work and vision that made it all possible! The brand's comforting, down-home American charm is part of what has allowed it to rise to snack fame in the US, and now abroad. The other contributing factor? Its absolutely delicious cookies, breads, and crackers, of course!
Goldfish, the happiest fish in the cupboard!
Goldfish® are the perfect snack for every occasion: munch on them at the office, pack them in your kid's lunchbox, and set them out for your next movie night! You can't help but be happy when you're eating "the snack that smiles back, Goldfish"! Pepperidge Farm's famous smiling fish are some of the most well-traveled creatures in snackland. Cheddar Goldfish are a must-have for road trips, picnics, pregames, and more! Why? Because they're simply delicious! The crispiness and sharp Cheddar flavor of these super cute crackers make Goldfish a crowd favorite! Now, Goldfish come in all shapes, sizes, colors, and flavors, so you can be sure your snack spread has something for everyone. American families have been enjoying this snack time staple for decades! We should warn you, though: these baked snack crackers are addictive. Once you eat one, you're nearly guaranteed to go back for a handful! This salty snack is just too cute and too yummy to resist!