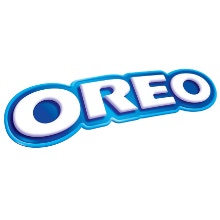 Oreo: the all-American sandwich cookie!
Browse our selection of Oreo cookies that you'll only find in the US and in Asia: We have everything from the classic cookies 'n' cream to colorful and magical limited-edition flavors! The very best variety of American Oreo cookies! Delight your taste buds with vanilla cream, brownie, or peanut butter fillings! Americans love to enjoy these cookie "sandwiches" with a dollop of peanut butter and a tall glass of milk. So, to dunk or not to dunk?

Browse the large selection of Oreo cookies and other treats in our online American shop.
Learn more
Oreo: the most famous sandwich cookie in the world
The very first chocolate and vanilla crème Oreo sandwich cookie first hit the scene back in 1912, in New York City. Nabisco is the genius behind this little American treasure. The very first variation of this delicious sandwich cookie was a lemon meringue flavor, but it was discontinued after a short time. The unique textured Oreo cookie design wasn't finalized until 1952. Today, it's a staple in American cupboards and the top-selling cookie brand in the country.

These crunchy chocolate cookies with delectable vanilla crème filling are simply impossible to resist. But it IS possible to eat them in a myriad of different ways! Oreos don't leave anyone indifferent—everyone has their own technique for indulging! Whether it's twisting it apart and eating the filling first, dipping the whole thing in coffee or milk, or dunking it into a jar of peanut butter à la "Parent Trap"!😉 There's no wrong way to eat an Oreo (no matter what anyone tells you), so go on and enjoy!

Part of what makes these sandwich cookies so popular is the brand's creativity when it comes to unique flavors and limited editions! Like the ones they made to celebrate Mickey Mouse's 100th birthday! Or their special Lady Gaga Oreos. Star Wars, Pokemon, Trolls, you name it—there's an Oreo for everyone! Told you they were creative! Oh, and did you know that there's a National Oreo Cookie Day? (It's March 6th, so mark your calendar 😉)
Looking to get creative with your Oreos? Try baking an Oreo Cake! Nowadays, people don't just eat Oreos plain. They also use them in some very original recipes. Like the fried Oreos that are so popular at American state and county fairs! Or the easy Oreo ice cream hack that's been going around TikTok and YouTube lately.
  And here's another special recipe: our CFO Hélène's favorite
sweet American snack
, Oreo cake! As you explore the My American Market website, you'll probably stumble on some other recipes from Hélène. Why? She's just as good with recipes as she is with numbers!
To make an Oreo cake, it's easy. You'll need 300g of Oreos (that's almost 1 full package... but not quite—so you can afford to snack on a few while you're baking😉), 100g of chocolate (preferably dark chocolate), 100g of butter and 100g of condensed milk.
1. Separate the Oreos; scrape out the cream filling, and stir it together with a splash of condensed milk.
2. Next, melt the chocolate and butter and crush the Oreo cookies. Combine the melted chocolate, butter, Oreo crumbs, and the remaining condensed milk. Put your cake mixture into a cake pan.
3. Spread the Oreo cream frosting on top as the final touch.
4. Bake it at 200°C for 15-20 minutes.
5. Once it's cool, your delicious Oreo cake is ready to enjoy!
Hide 🙈