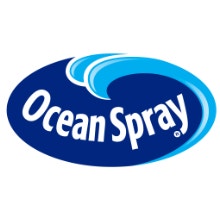 Ocean Spray: all cranberry, all the time!
When Americans think cranberry, they think Ocean Spray! They've mastered this sweet and tart fruit in all its forms: dried cranberries, cranberry juice, and even classic Thanksgiving cranberry sauce. If you're on a cranberry kick, Ocean Spray has just what you need!

All these Ocean Spray products and more are waiting for you in our online American food shop!

"
Learn more
The marvelous history of Ocean Spray
Ocean Spray wouldn't be where it is today without three cranberry growers named Elizabeth, Marcus, and John, who had big dreams for one small berry! In 1930, these three entrepreneurs and cranberry aficionados came together to create a national cranberry cooperative. The delicious red berries would never have traveled the world if it weren't for them!
Today, over 700 cranberry growers throughout the US own a stake in the cooperative and contribute to the Ocean Spray brand. The growers are considered part of the cranberry family. That's 700+ family members who work each and every day to harvest delicious fruit and develop the Ocean Spray cranberry products that you'll find on the shelves of any grocery store in America! Together, they are able to offer a wide variety of goods, including cranberries, cranberry juices, and cranberry sauces.
And speaking of cranberry sauce, that's probably what Ocean Spray owes its fame to! It makes the top-selling cranberry sauce in the US, especially around Thanksgiving! Everyone knows that if you want to host a meal as good as Monica's, from Friends, Ocean Spray cranberry sauce is a must-have!
Cranberry trivia
Did you know? Cranberries are considered a superfood because they contain plenty of antioxidants, and also lots of vitamin C and magnesium!
Hide 🙈