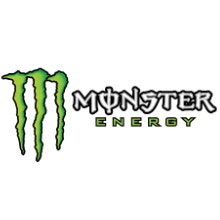 Monster Energy: the energy drink with fruity flavors
Monster Energy Drink is a carbonated or tea-based energy drink launched in 2002 in the States. You will choose according to your taste and your color preference (blue, red, yellow, pink) with Monster Mango Loco, Punch, Energy Ultra, Dragon Tea cans and many other rare flavors with and without sugar.

Check out our Monster beverage selection and order online on our world shop online page.
Learn more
Monster Energy: unbeatable energy drinks
If you're a fan of Monster Energy drinks, you're going to totally dig our impressive flavor selection! This world-famous energy drink comes in tons of varieties and flavors, and we've got everything from crowd favorites to super limited editions. There are so many to choose from, you won't know where to start!

You can't go wrong with one of our best-sellers, like Monster Mango Loco. It's hands-down one of the best fruit-based energy drinks—no, one of the best cold drinks, period—ever made! This delicious blend of mango, passion fruit, guava, and apricot is like a tropical vacation in your mouth. You'd be loco not to try it!

Monster Punch is another must-try variety! Will one of these tropical fruit punch flavors become your new go-to: Monster Mixxd Punch, Pipeline Punch or Baller's Blend Punch? Or will you opt to recharge your batteries with Monster Energy Pacific Punch, a refreshing blend of apple, orange, raspberry, cherry, and pineapple with a hint of passion fruit? Soon, you'll be riding a flavor wave that'll make you feel like you're at the best surf spot on the Pacific!

Another must-have energy drink is of course Monster Ultra Fiesta Mango! This lightly sparkling beverage will give you a delightful energy kick, and that's not even the best part... it's also sugar-free! Did somebody say "fiesta"?

And last but not least, our best-seller list wouldn't be complete without Monster Dragon Tea! Available in both green tea and white tea, this energy-loaded beverage will really get the par-TEA started!
Monster Energy: at My American Market, you're spoiled for choice
Our super well-rounded selection makes us your one-stop shop for Monster Energy drinks! We've got all the classics, plus new and surprising flavors you'll love! Looking for ultra unique taste, but hold the sugar and calories? Crack open a can of Monster Energy Ultra Blue! This tasty mix of berry and citrus inspired by snowy mountains will get you hyped up for the most extreme winter sports, and keep you on your board or skis all day long.

Thanks to My American Market, you can sip on all the colors of the Monster rainbow! What'll it be, hot pink, teal, neon green, frosty blue, or ultra violet? Once you see our eclectic assortment of Monster Energy drinks, you're going to want to try them all! We offer nearly 40 different flavors and varieties of Monster, and our energy drink aisle is constantly expanding!

If you're a sucker for an Arnold Palmer, Monster Rehab Lemonade Energy Iced Tea will be right up your alley. And for berry lovers, we recommend Monster Rehab Raspberry Energy Iced Tea. You get the picture... our online shop has something for everyone!
Hide 🙈