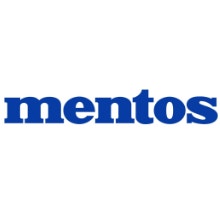 Mentos: when your taste buds need a wake-up call!
Mentos candy is a must-have! We're with you on that one. These little round candies give you the perfect refreshing boost whenever you need it. If you love the original mint flavor, you've gotta try the cinnamon version! And just for you, we even stocked up on Mentos lip balm—it soothes your lips and smells good enough to eat!

Take your pick from all the Mentos in our <a href=/us/">online American food shop</a>!</p>"
Learn more
Mentos: fresh breath since 1932
There's a reason why Mentos has been a staple in the candy aisle for nearly a century! Kids and adults alike have a tough time resisting these chewy, colorful delights. But just how did the Mentos brand become so iconic? We've got the scoop!
The very first Mentos were released all the way back in 1932. Pierre Van Melle came up with the idea for the soft and chewy minty candy while riding the train in Poland with his brother, Michael. At the time, the Dutch brothers had no idea that their creation would become a revolution in candy: it was the beginning of a "Fresh New World."
Mentos soon began branching out and spreading its influence around the world. In the '50s, Mentos started shipping to other places in Europe like France, Germany, and the United Kingdom. Production moved from the small Dutch town of Breskens to Rotterdam.
Mint Mentos became so popular that even the King of Nepal famously indulged in 1973! Though the original mint flavor experienced enormous success, the brand decided to reinvent itself to keep consumers on their toes. Which is how Americans got a taste of Cinnamon Mentos, and Europeans were able to enjoy various fruit flavors.
Mentos made its television debut in 1976 with its very first commercial. Just a few years later, in 1990, it launched the "Freshmaker" campaign that became an instant success, skyrocketing sales nearly overnight! (Watch their old ads online for a serious trip down memory lane—but beware, the jingle will be stuck in your head for days!)
In 2005, Mentos proved its power of innovation once again, introducing a line of chewing gum. Mentos Gum hit shelves in Europe and beyond, delighting consumers with its many flavors, its beloved Mentos shape and texture, and its uniquely refreshing taste.
In 2011, Mentos Squeeze—unique chewing gum with a surprising real fruit filling—was created. Then, in 2013 mini sugar-free Mentos "Pure Fresh" were launched in intriguing flavors like Eucalyptus, Menthol, and even Strawberry.
In 2014, Mentos continued to push the envelope with flavors like Mentos Chocolate, Spearmint, and Caramel. There's no doubt that the brand has lots more surprises up its sleeve for us. We can't wait to see what they'll come up with next!
Mentos: not just candy
You'd be surprised at all the different Mentos products that exist! Fruit-flavored varieties, like Watermelon Mentos, are relatively easy to find in European stores. But our goal is to give you access to unique flavors and creations from around the world! Which is why we made sure to stock up on Cinnamon Mentos, which are usually only sold in the United States.
You'll even find Mentos lip products on our website! Mentos Raspberry Lip Balm turns your favorite candy into a practical beauty product that you'll actually enjoy using! Soft, moisturized lips AND the delicious taste and scent of raspberry at any time of day? Yes, please!
We also carry mint-flavored Mentos lip balm! Both energizing and soothing, this lip balm is unlike anything you've tried before.
Hide 🙈