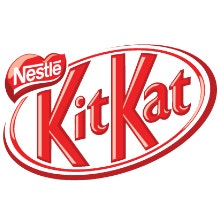 Kit Kat: every flavor under the sun!
Surely you're already familiar with Kit Kat... But we bet we've got at least one Kit Kat flavor you've never tried—or even dreamed of! Which Kit Kat will you break off a piece of first? White chocolate, matcha, gingerbread, or perhaps lime? Mini bites or fun-size bars?

To get all the best Kit Kat treats, visit our online American food shop!
Learn more
Kit Kat: full of flavorful surprises
Raise your hand if you've never had a classic milk chocolate Kit Kat bar. No one? Yeah, that's what we thought. But did you know that the famous Kit Kat candy bars also come in a plethora of other delicious, and sometimes surprising, flavors? For starters, there's a green tea-flavored Kit Kat! Enjoy the incredible taste adventure that is a Matcha Green Tea Kit Kat! This Japanese treat comes in a gorgeous green hue. Are you willing to give it a try?
We also carry yummy Strawberry Kit Kat bars, another delicacy that we import straight from Japan. Sweet strawberry flavor is infused into every part of this all-pink Kit Kat, from its crispy wafers to its chocolate coating. Berry lovers are also particularly fond of the raspberry Kit Kat variety.
By offering you a selection of Kit Kat flavors that are usually only available in Japan, we like to think that we're helping you travel the world without leaving home. But, of course, we also stock our shelves full of American Kit Kat varieties, some of which are just as unique! For example, if citrus is your thing, there's a lemon crème flavor, as well as a limited-edition Key Lime Pie Kit Kat. For chocolate fiends, we especially recommend the Mocha Chocolate Kit Kat and the White Chocolate Kit Kat.
Each year, we seek out the best new snacks from all over the world, and each year, the My American Market selection grows and grows. And our assortment of Kit Kat chocolate bars is no exception! So, prepare to be amazed by all of our yummy Kit Kat treats from other countries!
Kit Kat: royally delicious chocolate
We're sure you're familiar with Kit Kat bars: layers of crispy wafer cookies coated in creamy chocolate. But did you know that Kit Kat was invented in England? When Rowntree's first released it in 1935, the treat was called "Chocolate Crisp." But people soon began calling it by a nickname, Kit Kat, and the brand officially changed the name in 1937.
Today, these chocolate bars are produced all over the world. The brand was bought out by Nestlé in 1988, except for the American branch, which is owned by Hershey. Fun fact: in 2014, 650 Kit Kat bars were consumed every second throughout the world! We'd consider that a major success, wouldn't you?
The Kit Kat bars that most of us know and love include four chocolate-covered wafers stuck together, perfect for breaking apart and sharing. But they also come in fun-size minis and even smaller bites. By the way, did you know that Kit Kats weren't introduced to some European countries until several decades after they were invented? For example, people France didn't get to experience their deliciousness until 1970!
As you already know, Japan makes over a dozen unique flavors of this crispy chocolate bar. So, what are you waiting for? "Have a break, have a Kit Kat!" (That's the brand's slogan in most of the world, with the exception of the US!)
Hide 🙈