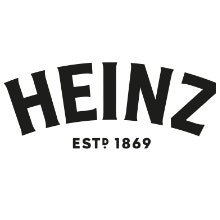 Heinz: American-made condiments and sauces!
Ketchup, barbecue sauce, chili sauce, cocktail sauce… you name it, Heinz makes it! And if you're looking for pickles, Heinz has it all: adorable baby dills, pickle chips for your hamburgers, and even sweet and dill relish for hotdogs!

Check out the wide selection of Heinz products in our online American food shop!
Learn more
Heinz: one of the most beloved condiment brands in the world
Heinz is a household name! Its products have earned a prime spot in the door in fridges around the world. But you may be wondering how Heinz achieved near complete condiment domination. It's a story that began over 150 years ago. In the years since, Heinz has enhanced mealtime and set the bar for quality in food manufacturing. Keep reading to learn about the company's fascinating history and how it got to where it is today.
Henry J. Heinz's extraordinary adventure began in Pittsburgh in 1869, when he decided to begin selling his mother's horseradish sauce. He bucked the trend from the get-go, refusing to package his product in the same opaque brown bottles as his competitors. Instead, he chose to put his products in clear glass bottles, which showed off their quality.
Heinz Ketchup hit shelves in 1876, and at the time it was called "Catsup." Heinz Ketchup was originally made from a top-secret recipe with just 5 ingredients, one of them being vine-ripened tomatoes. The condiment was a roaring success in the United States. It was soon picked up by the London department store Fortnum and Mason and became a hit with Brits, too.
Henry Heinz was full of ideas, and he launched product after product to keep his customers satisfied. In 1880, the "57 Varieties" slogan showed off just how wide the Heinz selection was. And that number would only go up!
Quality is Heinz's top priority. This guiding principle has helped the company become the biggest producer of tomato-based goods in the world. Heinz continued to improve its recipe over the years, and food scientists came up with a preservative-free Ketchup in 1904.
Heinz: a brand that cares about its customers
Heinz is always looking out for consumers, and has made it its mission to combat the sale of products with misleading labels. In 1904, it was also the only brand to offer a preservative-free option, giving it a key advantage over its competitors. The proof? It produced 5 million bottles that year in the United States. By 1907, it was producing 13 million bottles a year and selling in multiple countries around the world.
Henry John Heinz died in 1919 at the age of 74. However, his values and innovative spirit lived on through his son, Howard, who took over as the head of the company. Howard would go on to open the first Heinz factory in Europe (in the UK), marking the beginning of the company's international expansion.
Heinz has proved that it can not only adapt to changing circumstances, but thrive in them. During WWII, it helped produce rations. It even developed a self-heating can of soup, a revolutionary invention for soldiers on the front lines. And the war didn't stop Heinz from growing, either—its products started becoming available in France around this time. The brand did, however, have to put some of its other plans on hold due to shortages. When the war ended, Heinz got right back to working toward its ambitious quality objectives. In 1957, it began producing its own proprietary tomato seeds, and today all of the outstanding tomatoes that go into Heinz Ketchup are grown in the US.
Though it was already popular at the time, Heinz never stopped evolving, always striving toward its next big goal to keep consumers happy. It's even been to space—astronauts at the International Space Station have enjoyed Heinz condiments since the 1990s! Throughout the 2000s, Heinz began doubling down on its commitments to its customers, listening to their desires and adapting with the times. For example, the brand released a line of organic Ketchup in 2006, as well as a low-sugar option. Heinz has also developed a no-salt added version of the their famous Ketchup, with 70% less sugar.
Heinz offers one of the most varied selection of condiments of any brand on the market today. How could you not love Heinz Barbecue Sauce and Heinz Chili Sauce? Explore the best of Heinz USA, including Heinz 57 sauce and famous Heinz pickles, all thanks to My American Market.
Hide 🙈