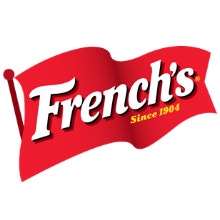 French's: America's favorite yellow mustard!
Contrary to popular belief, French's mustard isn't French at all. This iconic bright yellow condiment is 100% American! Everyone knows French's makes the best classic yellow mustard and honey mustard, but did you know that they also make awesome BBQ sauce and Worcestershire sauce? And don't forget French's famous crispy fried onions!

Head over to <a href=/us/"> our online American food shop</a> to get your favorite <strong>French's</strong> products!</p>"
Learn more
French's: super tasty American condiments
French's has been working hard for over a century to create the best condiments in America. And it has paid off—French's condiments are true staples in American households.
Food brings people together. French's understood that fact early on, which is why they chose to debut their brand at the 1904 World's Fair. It was love at first bite. Soon, French's mustard and hotdogs were inseparable.
This American brand (no, it's not French despite what you may think) has a long and interesting history, and flavors that have been perfected over the years. It has stayed ahead of the trends and evolved with Americans' taste. The brand's diligence has allowed it to develop innovative products and flavors that go far beyond the classic yellow mustard that first rocketed it to condiment fame. French's also makes ketchup, crispy fried onions, and Worcestershire sauce.
When you think French's, think flavor. French's condiments can turn any hamburger or hotdog into a flavor masterpiece. A squirt of French's yellow mustard, honey mustard, or BBQ mustard (yeah, you read that right) will give your meals the WOW factor!
French's is known for mustard, but they're also particularly proud of their ketchup. They select only the very BEST ingredients, starting with their tomatoes. There aren't any artificial flavors, and it shows! The delicious taste of tomatoes really shines through in French's Ketchup. Try it for yourself!
French's, the World's Fair novelty that became timeless
French's got their start in 1904 thanks to George and Francis French, sons of R.T. French. Why 1904? That was the year of the St. Louis World's Fair. Many of the greatest inventions of our time debuted at a World's Fair, and French's classic yellow mustard is no exception! It was introduced as the perfect companion for fairgoers' hotdogs.
A few years later, in 1915, French's became available in glass bottles, for consumption at home. Starting in 1941, you could add an easy dash of flavor to meatloaf, gravy, stew, and more with French's Worcestershire sauce.
French's continued to innovate and grow, and in 1974 they invented super practical squeezable single-serving packets so that people could take condiments with them wherever they went. In 1982, Spicy Brown Mustard was created for those who want to kick their meals up a notch.
By 1983, Dijon mustard could be found in virtually every restaurant and on most dining room tables in America. They transitioned from glass to plastic packaging in 1991, making it even easier to put French's on hotdogs, sandwiches, and more.
French's really started branching out in 1995, when they released French Fried Onions, a crispy new take on the condiment. In 1998, they added Honey Mustard to their all-star lineup, the ideal dipping companion for finger food like chicken tenders and French fries!
Hide 🙈