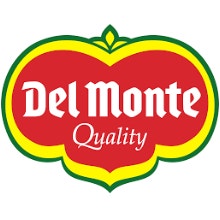 Del Monte: the best canned fruits and vegetables!
Del Monte canned goods are staples in every American pantry. They're healthy, delicious, and above all, easy to prepare! Plus, try specialty products like creamed corn and fruit packed in light syrup or juice. Del Monte gets life's simple pleasures just right!

Check out all the Del Monte products we carry in our online American food shop!
Learn more
Del Monte: a brand that has only gotten better with age
The first time the name "Del Monte" appeared on a product was in 1886. But it probably wasn't the product you're thinking of... it was coffee! That's right, the first product developed under the Del Monte name was a premium coffee blend, made especially for the Del Monte Hotel in Monterey, California.
The Del Monte brand as you know it wasn't officially created until several years later, in 1892, when it began selling canned peaches. In 1996, it launched now-famous Del Monte Gold Extra Sweet canned pineapple. The company just kept growing, and in 1999 it made its initial public offering on the New York Stock Exchange, ticker FDP.
2004 marked the acquisition of Del Monte Europe, but that was just the beginning of its foray onto the international scene. In 2007, the company opened a branch in the United Arab Emirates. Del Monte's facility in Dubai produces fresh-cut fruits and vegetables, and it is also where fresh pressed juice is made for distribution all throughout the Middle East.
In 2008, Del Monte acquired the Costa Rican Caribana group, allowing it to ramp up Del Monte banana and pineapple production in Central America.
In 2015, the brand received Sustainably Grown certification for its two most popular products: pineapples grown in Costa Rice and Kenya, and bananas farmed in Costa Rice and Guatemala. In doing so, Del Monte made a strong statement, a commitment to sustainable development.
Del Monte is still writing new chapters in its history, as is My American Market, an official Del Monte retailer.
Del Monte at My American Market
Del Monte is a staple in American cuisine, and since My American Market is your one-stop online grocer for all things America, it would be wrong of us NOT to carry yummy Del Monte products! After all, the brand's headquarters are in San Francisco, California.
Del Monte Quality is part of the Del Monte Foods Inc. group, whose portfolio also includes brands such as Contadina, College Inn, and S&W.
You can get one of Del Monte's most authentic American products from our online grocery store: Sweet Corn Cream Style. Del Monte creamed corn can be used for a variety of sweet and savory dishes that Americans love. Whether you're craving a taste of your childhood back in the US, or want to discover brand new American flavors, Del Monte doesn't disappoint.
Hide 🙈