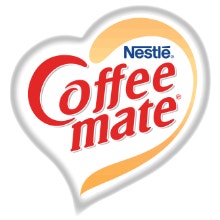 Coffee-Mate: creamer for your American-style coffee
Coffee-Mate creamers, made by Nestlé, are flavored non-dairy coffee creamers and powders. Coffee-Mate vanilla, chocolate, hazelnut, caramel vanilla, caramel macchiato... yum! These flavors will turn any ordinary coffee into a delectable home barista creation! Once you've tasted coffee with Coffee-Mate, it's hard to go back! Stir a spoonful into your hot or iced coffee and enjoy.

Browse all the products we import from the US in our <a href=/us/>online American shop
Learn more
Coffee-Mate: start your day off right
If your day doesn't truly start until you've had your coffee, Coffee-Mate is your soulMate! Pour a little love into your morning (or afternoon or after dinner) coffee. Just a spoonful of Coffee-Mate can turn a regular cup o' joe into a decadent treat!
There's a Coffee-Mate product for everyone, so you're sure to find your best Mate! Hazelnut Coffee-Mate is a must-have flavored coffee creamer! But with Coffee-Mate, you aren't limited to coffee! You can also add it to your tea or hot cocoa for a sweet, nutty touch. Once you've tried it, there's no way you'll go back to drinking plain black coffee or tea! There's a reason why Hazelnut Coffee-Mate is one of our best sellers 😉!
Vanilla Coffee-Mate is another popular flavor. It even comes in a sugar-free version, so you can indulge all day long without any guilt! A dash of French Vanilla Coffee-Mate makes for the ultimate dessert coffee. Soon, you'll be giving your barista a run for their money with your very own coffee creations!
You can also indulge in Coffee-Mate Caramel Macchiato, a rich caramel flavor that complements both coffee and hot chocolate perfectly. Get a taste of La Dolce Vita with an easy at-home Caramel Macchiato.
If all that seems a little fancy for you, you can't go wrong with the Original Coffee-Mate. This non-dairy creamer is a pantry staple in the United States, and it's how most Americans enjoy their java. Original Coffee-Mate adds the ideal creamy touch to your favorite hot coffee or tea.
One bottle of Coffee-Mate goes a long way, providing creaminess and flavor to at least 30 hot drinks! It's yummy, and super easy to use and store! What more could you want from a coffee creamer?
Today, the Coffee-Mate collection features over 50 different flavors of powdered coffee creamers, non-dairy creamers, concentrates, and liquid creamers. Pick up your favorites right here!
Coffee-Mate: American-style coffee, made even better
Coffee-Mate is the top-selling coffee creamer in the United States. The beloved American brand is owned by Nestlé. You've probably heard Nestlé's slogan, "Good food, good life," but we bet you didn't know just how many of your favorite good food (and drink) brands it owns... KitKat, Nesquik, Perrier, Cheerios, and Toll House, to name just a few of Nestlé's most well-known brands and products!
Nestlé owns some of the most famous food and drink brands that make some of the most delicious food and drink products in the world, and Coffee-Mate is no exception. So, go on, treat yourself to delightfully creamy coffee or tea today! Each Coffee-Mate creamer is more delicious than the last!
Hide 🙈