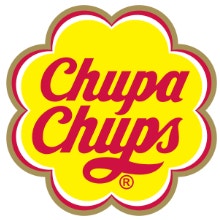 Chupa Chups: soda that takes after the famous lollipops
Chupa Chups soft drinks are deliciously fizzy and fruity. Each can of Chupa Chups soda is modeled after a different lollipop, so the line features flavors like strawberries & cream and melon! You'll feel like a kid again with every sip!

Check out our entire selection of American drinks and order your favorites from our <a href=/us/>online American shop
Learn more
Chupa Chups: a bright idea
Enric Bernat is the confectionery mastermind behind Chupa Chups lollipops. He had an idea for a candy that didn't get your fingers sticky, something you'd eat with a fork or... on a stick! You got it, he's not just the creator of Chupa Chups, he's the one who INVENTED lollipops! You might think that lollipops have been around since the dawn of time—they're just that popular—but in fact, they've only been around since 1958. So, thank you Enric Bernat. Our childhoods wouldn't have been the same without you!
By the way, 1958 was a pretty iconic year—it's also the year Prince, Michael Jackson, and Madonna were born! If that's not a sign that Chupa Chups was destined for greatness, we don't know what is.
Chupa Chups got their start with 7 different lollipop flavors: strawberry, orange, lemon, strawberries and cream, choco-vanilla, coffee and cream, and mint. Can you guess which flavor was the biggest hit? Strawberries and cream! Actually, it's still one of their best-selling flavors to this day.
In 1969, famous artist Salvador Dali doodled on a newspaper, creating what would soon become the iconic daisy-shaped Chupa Chups logo! Pretty cool!
Chupa Chups began their international takeover in 1990, and now they sell sweets in 164 countries! No matter where in the world you go, you're almost sure to find Chupa Chups. The brand has always set the bar for originality, with innovative (dare we say ingenious?) ideas. For example, in 1994, when it created the largest Chupa Chups lollipop ever. Initially, it was made as a gift for Hristo Stoichkov, a soccer star who played for FC Barcelona. It weighed a whopping 735 grams (over 1.6 pounds) and would take days to finish. But no one ever did—it's still intact today! Are you up for the challenge?
When we told you that you could find a Chupa Chups lollipop anywhere in the world, we weren't lying. Oh, did we say the world? We meant the galaxy! Russian astronauts have even brought Chupa Chups lollipops into space with them!
By 2018, over 100 different Chupa Chups flavors had been released. Today, you can try unique and sometimes surprising lollipop flavors like yuzu, ramune soda, and matcha latte.
Chupa Chups is also a master at keeping up with the times. That's why, in 2019, the company doubled down on improving the sustainability of its products and packaging, partnering with TerraCycle to do so.
Chupa Chups: much more than lollipops
If you're anything like us, you have a special place in your heart for Chupa Chups suckers because they remind you of childhood. Now, you can bring back deliciously sweet memories and create new ones, with Chupa Chups soda! Get the same great candy taste you love from a refreshing sparkling beverage, like Chupa Chups Grape Soda.
That's right, those unique Chupa Chups flavors aren't just confined to lollipops anymore. Now, you can drink them! Try something super original, like Chupa Chups Melon Cream Soda, or opt for the classic taste of Orange Soda.
One thing is certain: you'll be addicted after just one sip of Strawberries and Cream! Chupa Chups turned their best-selling lollipop into a soda, and we're here for it!
Hide 🙈