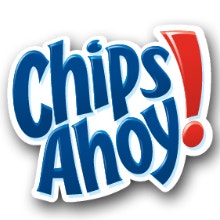 Chips Ahoy!: America's Favorite Chocolate Chip Cookies!
Chips Ahoy! is a hugely popular American brand, famous for its chocolate chip cookies. And no wonder! But we also have plenty of other Chips Ahoy! products: s'mores cookies, peanut butter cookies, even cookie popcorn! No matter what, you can't go wrong with delicious Chips Ahoy!

Browse all Chips Ahoy! products from your favorite American grocer.

"
Learn more
All-American cookies, Chips Ahoy
How could you not fall head over heels for chocolate chip cookies as delicious as Chips Ahoy? These yummy cookies are made by Nabisco, and are a smash hit with American snackers! Nabisco's parent company is Mondelēz International, an American multinational snack company that began as Kraft Foods Inc. all the way back in 1923. The chocolate chip cookie is an American treasure, and Chips Ahoy does it perfectly. They're SO GOOD that it's all but impossible to limit yourself to one cookie at a time (sometimes we end up polishing off the whole box in one sitting)! 😉 Original Chips Ahoy are delightfully crispy, with surprisingly soft chocolate chunks for contrast. Chips Ahoy is always looking for new ways to excite and entice their customers! Which is why they've partnered with quite a few other popular American brands to offer incredible snacking experiences. If you're team chewy rather than team crunchy, you've gotta get your hands on Chewy Chips Ahoy with Reese's Peanut Butter Cups. And that's just the tip of the iceberg! You can also try Chips Ahoy with Sour Patch Kids baked in, or Chips Ahoy S'mores flavor! Clearly, Chips Ahoy refuses to be just another chocolate chip cookie in the cookie jar! Chips Ahoy even has collabs with other more surprising snack foods. They teamed up with Cookie Pop, for instance, to invent incredible Chips Ahoy popcorn! Movie night has never been so DELICIOUS! And while you're at it, be sure to try the other delectable varieties of Candy Pop, like Oreo popcorn and Butterfinger popcorn.
Recipes that use Chips Ahoy Chocolate Chip Cookies
What if we told you that Chips Ahoy could make your homemade desserts even better? They've created tons of recipes that use their products in unique ways. For example, marshmallow brownies with Chips Ahoy chunks. Or a summery fruit pie with an easy and scrumptious chocolate chip cookie crust.
If baking isn't really your thing, why not try a Duncan Hines Chips Ahoy Cake Cup? It couldn't be easier! Everything you need to whip up a tasty single-serving cake in just minutes is right in the cup! Just add water, stir, pop it in the microwave... And voilà! You can enjoy a warm, freshly baked cake whenever you feel a craving coming on!
We also recommend crushing up Chips Ahoy and sprinkling them onto frosted cakes or cupcakes to add texture and yummy cookie flavor! But don't forget! Chips Ahoy Cookies are also plenty delicious on their own, or dunked into a cold glass of milk!
Hide 🙈