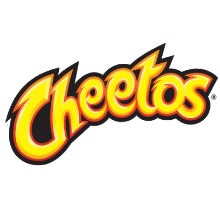 Cheetos: cheesy corn puffs
Recognizable thanks to a too-cool-for-school mascot, Chester Cheetah, this crunchy puffed corn snack is a crowd favorite! Original cheesy Cheetos are a classic, and oh so hard to resist! But don't let that keep you from discovering other flavors that are popular around the world! Want to spice up your life a bit? Try Flamin' Hot Cheetos! But here's a tip: if you finish off a bag of Cheetos someone accidentally left in the break room, be sure to lick your fingers to get rid of the orange evidence!

Browse our selection of products from the US (and around the world!) to see all of the Cheetos snacks we carry!
Learn more
Cheetos: one of Americans' (and now the world's!) favorite snacks
Turning down chips as delicious as Cheetos? Unheard of! Especially for everyone on the Dream Team! Never leave a bag of Cheetos unattended in the My American Market break room! Let's just say that Dorian learned that lesson the hard way! 😉

Cheetos have enjoyed success WORLDWIDE! Many different versions of these delicious snacks have been created in Asia, Europe, the United States, and other places around the globe. They're sold in over 36 countries, and some markets have come up with seriously surprising flavor combos! The brand has adapted its products and flavors to appeal to the palates and preferences of the various cultures it sells to—pretty smart! That's how things like Strawberry Cheetos were invented (they're from Japan, in case you were wondering).

We'll take you to the 4 corners of the world, on a virtual expedition to discover the most interesting and delicious Cheetos you've ever tasted! Just don't be surprised if you find orange fingerprints all over the house! It's not your fault that international Cheetos are so darn addictive!

Prepare to have your mind blown by all the unique Cheetos flavors we found for you. Obviously, we have plenty of different kinds of cheesy Cheetos! It's the flavor everyone knows and loves, and it's a surefire hit if you're stocking up on snacks for a party. But did you know that there's such thing as peanut butter Cheetos?! Don't knock it 'til you try it! If you'd rather stay in the savory snack realm, why not opt for Cheese & Ham Toast, Pizza, Bagel, Paprika, Hamburger, or Ketchup-flavored Cheetos?

And the surprises don't stop there! Cheetos even has something to satisfy your sweet tooth. Yep! You heard right! Come taste Cheetos Chocolate, brought to you straight from Poland! Cheetos makes a wide variety of flavors, they also come in all different shapes and sizes. You can get Cheetos in the shape of onion rings, skeletons, triangles, curls, and even a game of Cheetos "Rock, Paw, Scissors"!
How did Cheetos get so popular?
The brand was created in 1948 by the same man who founded Fritos: Charles Elmer Doolin. A big thanks to Charles for sharing his genius snack ideas, including Cheetos, with the world! 😉 But you couldn't always get Cheetos in places outside the US. The very first Cheetos product, Crunchy Cheetos, was developed in San Antonio, Texas. And it was also the ONLY Cheetos product for 23 years! In 1971, the brand came out with Cheetos Puffs. And in 2004, it invented an oven-baked variety.

The wild success of these savory American snacks led to a merger between the H.W. Lay & Company and The Frito Company. And that's how the 2 brands became Frito-Lay in 1961. In 1965, Frito-Lay became a subsidiary of PepsiCo.

Cheetos was the very first snack of its kind, but it wasn't long before competitors of the brand started creating their own versions of this salty snack, like Cheese Puffs, Cheese Balls, and Herr's Cheese Curls. Despite the stiff competition, Cheetos still has the cheesy snack market in a stronghold, hanging on tight to its top-selling spot.

Cheetos were crowned the best-selling cheese puffs in the United States in 2010 and have held that title ever since. The Cheetos brand has grown a lot in 70 years, to include 21 different varieties in North America alone! Impressive, right?
Hide 🙈