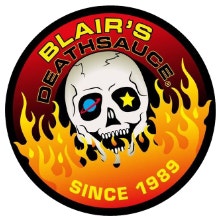 Blair's Sauces: Supremely Spicy Sauces!
Can you handle the heat? Blair's Hot Sauces put your taste buds to the test! The American hot sauce brand is known world-wide for its INTENSE heat. Choose from Blair's After Death, Mega Death, Sudden Death, or Original Death...Seeing a trend? Blair's Sauces don't pull any punches, but that's how we like 'em!

Browse more Blair's Sauces in our American food store.