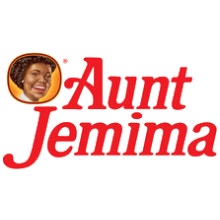 Pearl Milling Company (formerly Aunt Jemima): the best pancakes in town
Aunt Jemima was founded all the way back in 1889 in the United States. And ever since, they've been making the best pancake mixes and pancake syrup around! In June 2020, the brand changed its name from Aunt Jemima to Pearl Milling Company. But don't worry, it still makes the same great products. Everything you need to put together the perfect American breakfast spread in minutes is right here!

Browse all the products we import from the US in our American grocery store!

Pearl Milling Company (formerly Aunt Jemima): the easiest path to homemade pancakes
Want to enjoy a hearty American-style breakfast or brunch, but don't want to spend hours in the kitchen? Pearl Milling Company has just what you need! Make DELICIOUS Pearl Milling Company pancakes your go-to morning treat! To get breakfast on the table in minutes, try their Buttermilk Complete Pancake Mix: all you have to do is add water. That's it! It couldn't be easier! But the original recipe is also super simple. Stir in a few eggs, a drizzle of oil and a splash of milk, and you're all set! Your pancake batter is ready for the griddle. Aunt Jemima pancakes have earned a reputation as the fluffiest and tastiest hotcakes around! Quick AND delicious? It's the ideal duo for breakfast success. If you know, you know: maple syrup makes pancakes infinitely better. And once again, Pearl Milling Co. has you covered! Pick up a bottle of Aunt Jemima Original Syrup for the most authentically American flavor experience. You can't possibly have a bad day when you start it off with delectable pancakes!
Aunt Jemima becomes Pearl Milling Company in 2021
What happened to Aunt Jemima? Don't panic! New name, same delicious pancake mixes. Is Pearl Milling Company the same as Aunt Jemima? Yes—rest assured that even though the brand changed its name, it still sells the same great products. Did you know that Aunt Jemima has been around for over 130 years? The world-famous pancake mix came out in 1889, and was later dubbed Aunt Jemima. In 1925, the brand was bought by The Quaker Oats Company. In order to adjust to new types of demand and to continue innovating, the brand started introducing new products like Buttermilk Pancake & Waffle Mix, which was created in 1957. In 1966, they announced the release of their very own maple syrup with a fitting campaign slogan: "What took you so long?" From 1968 to 1979, Aunt Jemima continued to expand their product offering, launching new pancake varieties, waffle mixes, and light pancake syrup. Their history got a whole lot richer in 1991, when they unveiled Aunt Jemima Butter Rich Syrup—pancake syrup infused with mouthwatering butter flavor. The brand was so successful that PepsiCo bought out Quaker Oats Company in 2001. Thus, Aunt Jemima was added to the group's impressive portfolio. In 2020, Quaker made another much-anticipated announcement. They had decided to revise the brand's name and logo, which formerly propagated racist stereotypes and evoked the eras of slavery and segregation in the American South. They acknowledged that the logo was harmful and outdated, and that it was time to pull it from shelves. They produced a more respectful new logo and name, Pearl Milling Company, and rebranding efforts officially began in 2021. Say goodbye to Aunt Jemima and hello to Pearl Milling Company. Families in the United States have been entrusting their breakfast spreads to Aunt Jemima pancake mixes (now Pearl Milling Company) for over a century now. So, if you're yearning for a taste of America, look no further than Pearl Milling Company pancakes and pancake syrup!